Overview
The School of Computing and Information Science offers leading-edge research-based master's and doctoral degree programs in Spatial Information Science and Engineering and an all coursework, all e-learning master's degree program in Spatial Informatics.
Almost all SIE required and elective courses are available simultaneously online as well as on campus up to and through the PhD degree.
Spatial Computing is the overarching research and scholarly domain in which our academic and research programs are engaged in advancing. We use the terms "spatial information science and engineering" and "spatial informatics" interchangeably throughout this website. Both terms may be used to describe the field of knowledge that builds from and bridges to domains of geographic information science, computer science, cognitive science, data science, and engineering. We define spatial computing as a broader, more inclusive, and overarching concept.
Our innovative graduate degrees in spatial information science and engineering focus on the design of information systems for the collection, management, and analysis of information that has a spatial component.  Our additional forward looking information systems degree programs focus on technical, managerial, and policy issues associated with constructing and managing computer-based information systems for modern organizations.
The University of Maine is located in the small New England town of Orono, Maine just north of Bangor on the Penobscot River. Offices and classrooms are housed in the Edwards Wing of Boardman Hall located on the tree-lined campus mall.
MISSION
The mission of the graduate faculty is to educate students for professional practice within the field of spatial informatics by offering graduate courses that promote creative discovery, foster teamwork and leadership and prepare students for lifelong learning. We are committed to the highest possible standards of quality in the areas of teaching, research, advising and service.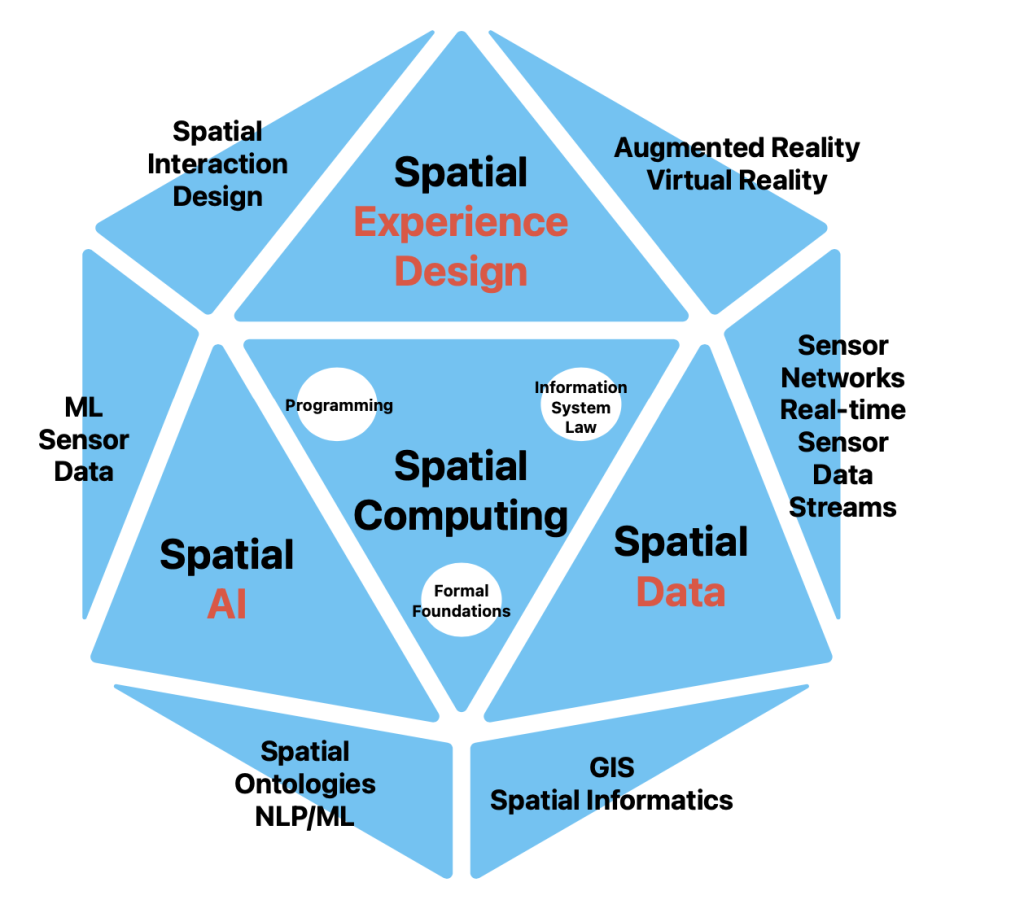 VISION
Our vision is to expand our role as a center for quality graduate education programs and research in spatial information science and engineering  to help fulfill state, national and international needs.
GRADUATE PROGRAM  GOALS
Our goal is to educate scientists, information specialists and engineers who have a breadth of knowledge across the core subject matter of information systems and spatial informatics that can communicate and use that knowledge constructively for the benefit of others. Objectives in furtherance of this goal include assuring in our academic programs that students obtain foundation knowledge in mathematics, computation and basic science in order to pursue their science, technology, engineering and math (STEM) graduate courses; gain knowledge in such a way that they can think independently and creatively; communicate their knowledge effectively to others and operate in society in a constructive, ethical and professional manner.
Curriculum – Continue to maintain a curriculum that stresses engineering and information system fundamentals, assures mathematical rigor, provides breadth and depth of course work, and focuses on design skills consistent with the needs of business and industry. Continually extend and evolve our graduate courses and programs to assure their responsiveness to the ever-changing societal needs for information.
Areas of Specialization – Continue to extend from current strengths. Over the next five years emphasis in research is likely to expand in the areas of spatio-temporal models, real-time sensor-stream-based systems, geosensor networks, user interfaces and interaction with autonomous transportation systems, spatial interaction design, natural language based spatial information extraction, ontology-based spatial information integration, and information policy issues related to access, security, privacy and intellectual property.  Among additional topics of interest include spatial data science, spatial artificial intelligence (AI), intelligent spatial technologies, spatial uncertainty, spatiotemporal real-time information processing, spatial experience design, spatial reasoning, indoor and outdoor navigation, mobility and visualization, GIS interoperability, visualization of spatial data quality, and location-based mobile services as well as legal and ethical issues involved in the design and deployment of spatial information systems.
Teaching – Continue to strengthen classroom teaching at the graduate level by (1) encouraging professors to participate in education based professional activities and workshops, (2) expanding the use of distance learning technologies, (3) incorporating within coursework research validated best methods for learning at the graduate level, (4) recognizing outstanding teaching contributions through award nominations, and (5) encouraging professors to use midterm teaching evaluations and similar devices to gain reactions to teaching as courses progress.
Research – Promote a high level of research involvement by (1) encouraging faculty to continue the expansion in numbers of research proposals submitted to funding agencies, (2) recognizing outstanding research contributions through award nominations, (3) encouraging professors and graduate students to continue to publish at a high level in peer-reviewed outlets, and (4) encouraging faculty and graduate students to disseminate the findings from their work at conferences, seminars and in the classroom.
The graduate programs in Spatial Information Science and Engineering focus on advancing knowledge about spatial information particularly with respect to concepts needed in next-generation information systems. Emphasis is placed on developing novel concepts and methods in the broad field of geographic information science for sensing, storing, accessing, analyzing, and managing spatial data as well as modeling, extracting, integrating, visualizing, and communicating spatial information. Research interests are predominantly in the area of Spatial Computing, including spatial cognition, spatio-temporal reasoning, spatial ontologies, spatio-temporal data streams, geosensor networks, spatial data science, and location privacy.
Professional Service – Encourage continued participation nationally and internationally on editorial boards, research proposal review committees, professional organization committees and in article peer-review processes.
Student Recruitment and Retention – Continue to attract top level students to the graduate programs from across the globe. Be responsive to the diverse needs of all students in the department through care and diligence in advising and through an emphasis on one-on-one advising by faculty.
Student Backgrounds – The bachelor degrees of past students graduating with a Master's degree in Spatial Informatics (or similarly named previous master's degrees) at the University of Maine have included: Anthropology, Applied Mathematics, Civil Engineering, Construction Engineering Technology, Computer Engineering, Computer Science, Criminal Justice, Economics, Education, Electrical Engineering, English, Environmental Planning, Forestry, Forest Engineering, Forest Resources, Geodesy, Geography, Geoinformatics, Geology, Information Systems Engineering, Information Technology, Landscape Architecture, Management Information Systems, Mathematics, Mechanical Engineering, Nautical Science, Software Engineering, Spatial Information Engineering, Statistics, Surveying Engineering, and Urban and Regional Planning. See also further bachelors degrees of past students graduating with a Master's degree in Information Systems at the University of Maine.
Relations with Professions and Industry – Develop active relationships with private industry through sponsored research, collaborative efforts, internship programs, exchanges at professional meetings, and through student design projects. See also the listing of sample Employers of Past Graduates and Spatial Informatics Careers.
Relations with Other Academic Units – Develop active relationships with other academic units supporting information science and system objectives, such as through the Four Plus One program and through collaborative research such as through the Spatial Data Science Institute.